In a previous post, I described how I built a LEGO Macintosh Classic with a Raspberry Pi and e-paper display.
For testing purpose I installed the clock demo which is part of the Embedded Artists repository. Of course I wanted to do more than displaying the time on this little box. I also wanted to take advantage of the button I had integrated.
One idea was to create a small web server so that I could receive and display messages. The application would basically:
display the time (every minute)
when receiving a message, stop the clock and display the message
when the button is pressed, start the clock again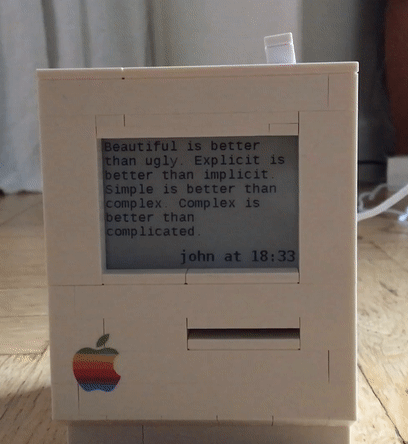 I don't know about you, but this really makes me think event loop! I learnt asynchronous programming with Dave Peticolas Twisted Introduction a few years ago. If you are not familiar with asynchronous programming, I really recommend it. I wrote a few applications using Twisted but I haven't had the opportunity to use asyncio yet. Here is a very good occasion!